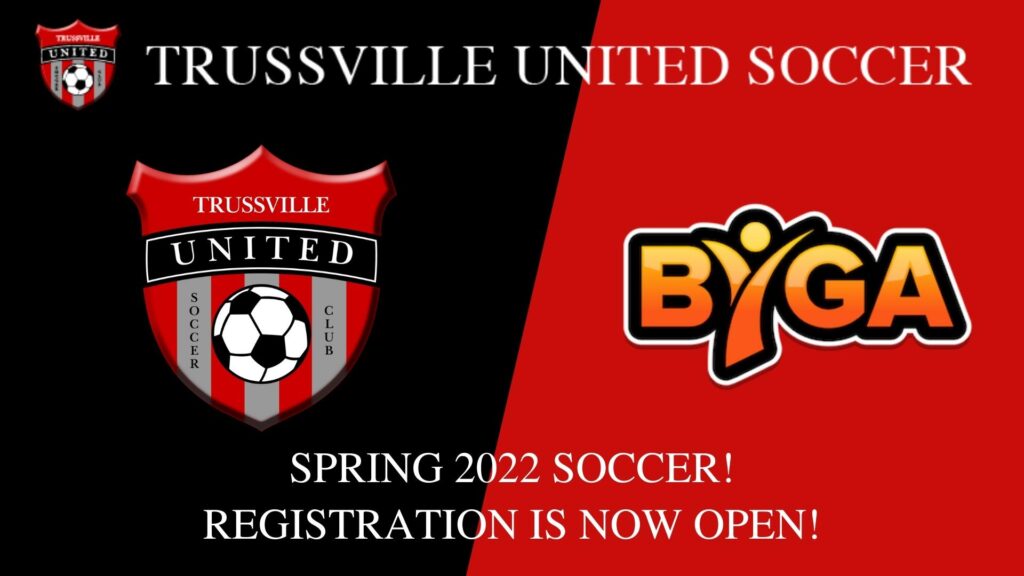 Spring 2022 Soccer Registration is NOW OPEN!
JUNIORS, INTRAMURALS, RECREATIONAL SOCCER
Thank you for visiting Trussville United Soccer! Home to over 1000 soccer players each year, we are excited to announce that Spring 2022 Soccer Registration is now open! Please click on the link below to sign up today!
We offer great programming for all players, genders, and levels! If you have any questions, please contact us at [email protected].
Questions or need assistance? Email [email protected]
Please note:  Existing Academy and Competitive Players will receive automatic emails from BYGA to register.  Please check your spam folders if you do not receive an email by January 2, 2022.
U9-U19 COMPETITIVE & ACADEMY PLAYERS
ALL NEW & INCOMING PLAYERS!  Join us for a FREE evaluation for all players interested in joining our Academy / Competitive Programs this Spring 2022!  Please complete this form in its entirety.  All registrants will receive a confirmation email and a follow-up message from our staff!
Dates:  January 24-25, 2022
Times:
U9-U11 Boys and Girls:  5:30-6:45 PM
U12 and Above: 6:45-8:00 PM
Staff coaches will be on hand to run a session and give you feedback on your player(s) for the best program at TUSC.